Ask Maxwell: What's Your Biggest Parenting Tip?
We independently select these products—if you buy from one of our links, we may earn a commission. All prices were accurate at the time of publishing.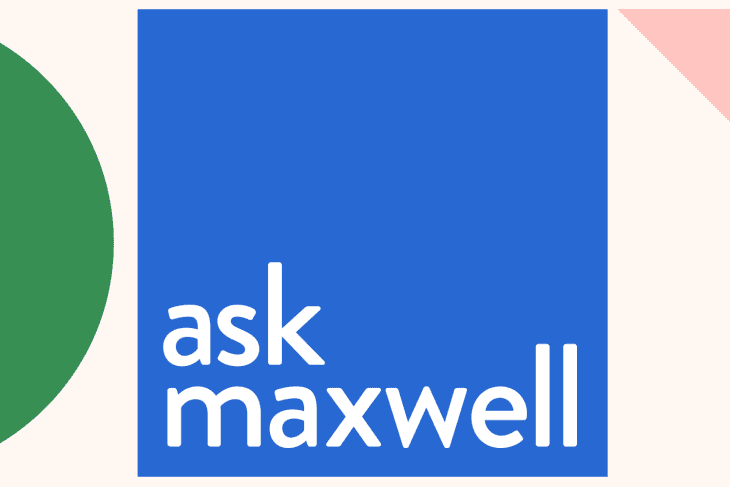 Okay, this week I didn't get a question in my email. So I've been wracking my head what to write about — (send me a hard question!) — when I began to think about two books I've just finished and how they deeply resonated with me as a parent. They also made me think back to what it was like to be a child of ten with my own parents.
The books are Richard Branson's two autobiographies (yes, you heard that right, he's already written two) — number one in 1998 and number two in 2017 (both of which titles trade heavily on Virginity, not surprisingly) — which track his life from childhood up to age 48 and then up to 67 in early 2017 when the Trump administration had begun and he was fully enjoying becoming a "Grand Dude," as he likes to say, with grandchildren.
For the record, he's currently 70 years old and his mother, Eve, just passed away due to COVID in January. She was 96. Her husband and Richard's father, Ted, passed away in 2011 at 93!
I knew very little about Richard Branson personally when I began these books, but I'd come across a little story about him in another book that painted him to be a very progressive thinker, very heart-on-his-sleeve personality, and endlessly willing to take risks. And of course I'd heard of Virgin Music and Virgin Airlines, so I was curious. What was his story?
What I learned was astounding and I couldn't put the books down.
He's had a remarkable life — both lucky and well-chosen — but what really kept coming back into my head was: "He had really good parents."
It made me keep thinking about how much we talk about parenting our kids, and yet what a mystery is continues to be. How do you do it well? For this family, however, it becomes clear that having the deep and undying support of your parents — not to be mixed up with being spoiled! — is rarer than we might think and so powerful in life (and I say as someone who had loving parents that did NOT always support me or my choices in life, which was devastating every time it happened).
Good parenting is, I've come to think, about seeing and supporting your child fully — neither of which is always very easy to do. But the two concepts reinforce one another. Branson's book shows a child whose parents really seemed to know him and not be surprised by him, and then they supported him 100 percent when others might have thought not to. In return they got a confident, loving child who was devoted to them and then gave that gift to his own family.
In fact, the first chapter of the first book is called, "A Family that Would Have Killed for Each Other." You get a picture of parents who never coddled, but also always expressed total support and belief in their children, even when they screwed up … as Richard often did … but not in this sweet story from his early childhood:
I have an early memory of learning to swim. I was either four or five, and we had been on holiday in Devon with Dad's sisters, Auntie Joyce and Aunt Wendy, and Wendy's husband, Uncle Joe. I was particularly fond of Auntie Joyce, and at the beginning of the holiday she had bet me ten shillings that I couldn't learn to swim by the end of the fortnight. I spent hours in the sea trying to swim against the freezing-cold waves, but by the last day I still coudn't do it. I just splashed along with one foot hopping on the bottom. I'd lunge forward and crash beneath the waves before spluttering up to the surface trying not to swallow the seawater.

'Never mind, Ricky,' Auntie Joyce said. 'There's always next year.'

But I was determined not to wait that long. Auntie Joyce had made me a bet, and I doubted that she would remember it the next year. On our last day we got up early, packed the cars and set out on the twelve hour journey home. The roads were narrow, the cars were slow, and it was a hot day. Everyone wanted to get home. As we drove along I saw a river.

'Daddy, can you stop the car, please?' I said.

This river was my last chance; I was sure that I could swim and win Auntie Joyce's ten shillings.

'Please stop!' I shouted.

Dad looked in the rear-view mirror, slowed down and pulled up on the grass verge.

'Whats the matter?' Aunt Wendy asked as we all piled out of the car.

'Ricky's seen the river down there," Mum said. "He wants to have a final go at swimming.'

'Don't we want to get on and get home?' Aunt Wendy complained. 'It's such a long drive.'

'Come on, Wendy. Let's give the lad a chance,' Auntie Joyce said. 'After all, it's my ten shillings.'

I pulled off my clothes and ran down to the riverbank in my underpants. I didn't dare stop in case anyone changed their mind. By the time I reached the water's edge I was rather frightened. Out in the middle of the river, the water was flowing fast with a stream of bubbles dancing over the boulders. I found a part of the bank that had been trodden down by some cows, and waded out into the current. The mud squeezed up between my toes. I looked back. Uncle Joe and Aunt Wendy and Aunty Joyce, my parents and sister Lindi stood watching me, the ladies in floral dresses, the men in sports jackets and ties. Dad was lighting his pipe and looking utterly unconcerned; Mum was smiling her usual encouragement.

I braced myself and jumped forward against the current, but I immediately felt myself sinking, my legs slicing uselessly through the water. The current pushed me around, tore at my underpants and dragged me downstream. I couldn't breathe and I swallowed water. I tried to reach up to the surface, but had nothing to push against. I kicked and writhed around but it was no help.

Then my foot found a stone and I pushed up hard. I came back above the surface and took a deep breath. The breath steadied me, and I relaxed. I had to win that ten shillings.

I kicked slowly, spread my arms, and found myself swimming across the surface. I was still bobbing up and down, but I suddenly felt released; I could swim. I didn't care that the river was pulling me downstream. I swam triumphantly out in to the middle of the current. Above the roar and bubble of the water I heard my family clapping and cheering. As I swam in a lopsided circle and came back to the riverbank some fifty yards below them, I saw Auntie Joyce fish in her huge black handbag for her purse. I crawled up out of the water, brushed through a patch of stinging nettled and ran up the bank. I may have been cold, muddy and stung by the nettles, but I could swim.

'Here you are, Ricky.' Auntie Joyce said. 'Well done.' I looked at the ten-shilling note in my hand. It was large, brown and crisp. I had never held that amount of money before; it seemed a fortune.

'All right, everyone,' Dad said. 'On we go.'

It was then that I realized he too was dripping wet. He had lost his nerve and dived in after me. He gave me a massive hug.

From Losing My Virginity by Richard Branson
There is so much in this little story. There's a seaside vacation with the whole, odd extended family. There's learning to swim. There's a bet and an awkward kid who won't give up. But, most of all there are two parents, both letting him go do his somewhat crazy thing, and then cheering and giving him a "massive hug" when he succeeded. Then there's his father's panic moment, that he keeps from his son.
As I read the story, I found myself inside that little boy, nervous but feeling unafraid to try anything, and I could feel for the first time what it was like to have a family that would have killed for one another. That's the biggest parenting tip I've heard lately.
P.S. Send me any questions at the email below!
More Questions & Answers!
Maxwell Ryan is a father and was an elementary school teacher in NYC before founding Apartment Therapy. He'd love to answer your question: askmaxwell@cubbyathome.com. This piece was created for Cubby, our weekly newsletter for families at home. Want more? Sign up here for a weekly splash of fun and good ideas for families with kids.
Cubby. Real solutions for unreal times.
Join us for a weekly dose of fresh, modern ideas for life at home with your kids.