A Week of Easy Dinners That Start with a Bag of Rice
We independently select these products—if you buy from one of our links, we may earn a commission. All prices were accurate at the time of publishing.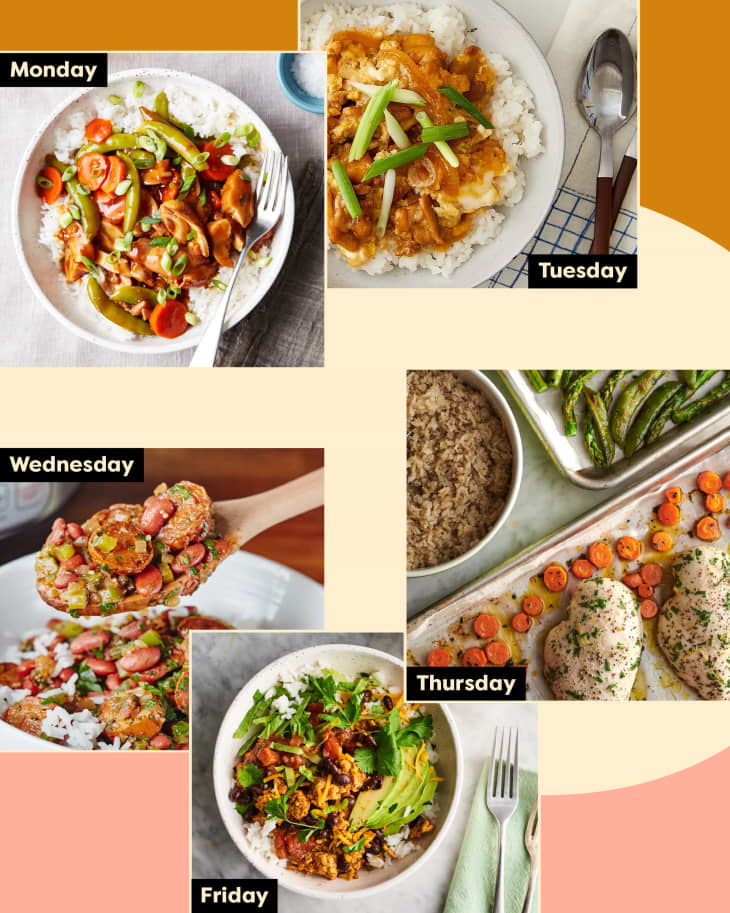 Regardless of what you like to cook for dinner, it's always a good idea to keep easy-to-prepare grains in your pantry. For me, there's probably not a single moment when I don't have a bag of rice in my cabinet or fridge (see Kitchn's guide on how to store rice and other grains one they're cooked). I grew up eating all sorts of rice and it's still my most-relied-upon starch for meals that are quick, easy, and (best of all) versatile!
I often make a large batch of rice on Sunday or Monday afternoon, and then just give it few fun spins throughout the week. Whip up a bowl of warm, fluffy rice of your choosing (try one of these three methods for cooking perfect rice on the stove), then look to the delicious recipes I've gathered here for inspiration on how to use up your rice throughout the week.
Monday: Instant Pot Teriyaki Chicken and Rice
Few things warm my soul like a large bowl of chicken teriyaki over a bed of perfectly cooked white rice. What's great about this dish — other than how amazing it tastes — is that both the chicken and the rice get cooked in the Instant Pot together, so even if you haven't prepped rice ahead you can still have a delicious dinner on the table in under an hour (and that's largely hands-off cooking time). Cooking everything in one handy gadget also means fewer dishes to wash. Oh, and one more thing: Sugar snap peas and carrots are great go-to vegetables, but you can definitely switch things up with the vegetables and add-ins you love.
Tuesday: Oyakodon (Japanese Chicken and Egg Rice Bowl)
In this dish, chicken and eggs are cooked in an umami-forward sauce for a super-satisfying dinner that requires just 10 minutes of active prep time. "Oya ko" translates to "parent and child" in Japanese, and this version of the traditional dish is made with families in mind — rather than being cooked in individual portions, everything cooks at once in a large skillet. Serve portions over generous bowls of fluffy rice for a meal that's not only incredibly tasty, but also packed with protein, thanks to the chicken and eggs.
Wednesday: Instant Pot Red Beans and Rice
Red beans and rice is one of the most flavorful, traditional, and beloved dishes within Louisiana Creole cuisine — and for good reason. This dish has a multitude of flavors that come from the Louisiana "Holy Trinity" (onions, celery, and green bell pepper), the fiber-rich red beans, and the smoky andouille sausage. In this version, you can skip soaking your dried beans the night before and let the Instant Pot do all the heavy lifting.
Thursday: Herby Chicken Grain Bowls with Feta Dressing
There's a reason grain bowls are a stalwart of meal prep: They're easy to make, customizable, and cover all the nutritional bases. These grain bowls serve up lean chicken for protein; veggies in the form of asparagus, snap peas, and carrots; and a combo of fluffy brown rice and quinoa, although you could use all rice or whatever cooked grains you have on hand. Plus, the feta dressing adds just the right amount of tanginess and tartness (consider making a big batch, because it tastes great on other dishes too).
Friday: Turkey Burrito Bowls with Cilantro-Lime Rice
While a good old-fashioned happy hour with friends is a great way to celebrate the end of the week, this tasty, easy-to-throw-together burrito bowl might just be your new favorite way to welcome the weekend. Not only can you make this burrito bowl in half an hour or less, but you can also make it your own with just a few swaps. Substitute the cilantro with chopped scallions, trade in the black beans for a can of pinto, or replace the white rice with Mexican or Spanish-style rice — it's totally your call!