I Tried 4 Popular Minestrone Recipes and the Winner Transported Me Right to Italy
We
independently
select these products—if you buy from one of our links, we may earn a commission. All prices were accurate at the time of publishing.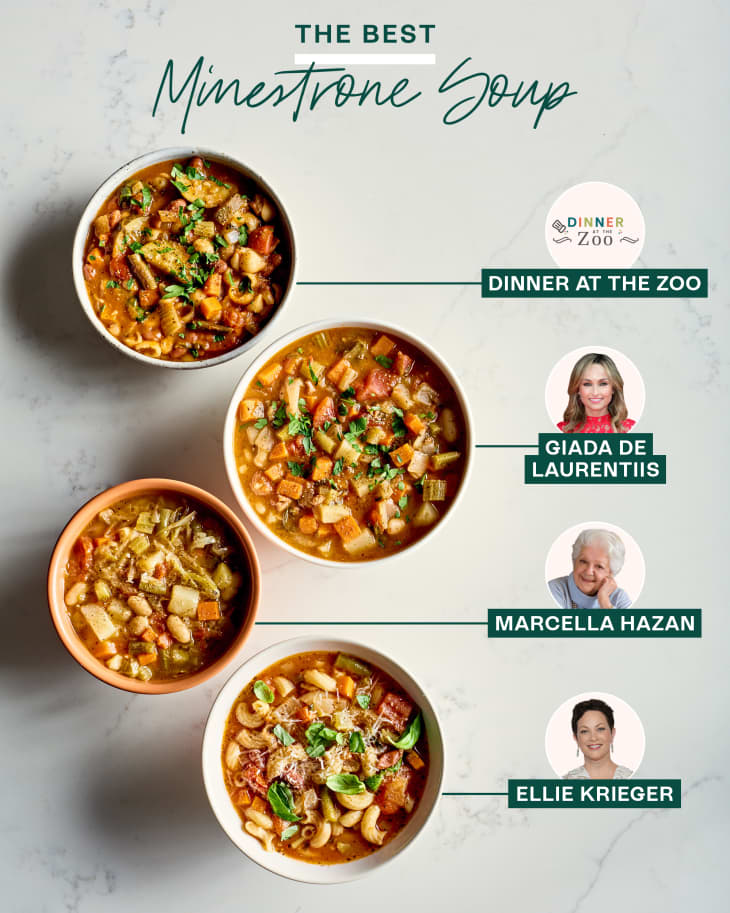 Minestrone soup is the perfect combination of wholesome and comforting — a combo I crave often. But while the humble soup is beloved by many, I'm more likely to turn to chicken noodle or pasta e fagioli when I crave something cozy. Why? I've never found a minestrone soup recipe I love.
Minestrone comes from the word minestra, which is Italian for "soup" and more specifically a soup that's filled with a mix of vegetables, beans, and sometimes pasta, which was traditionally part of la cucina povera, the frugal country cooking of Italian peasants. Iterations of minestrone abound in both Italy and beyond, with most involving carrots, tomatoes, sometimes zucchini or green beans, as well as white or kidney beans and occasionally small pasta.
To me, the best minestrone celebrates vegetables, and lets them swim in such a flavorful broth that you want to soak up every last drop with crusty bread. To find the tastiest version, I sought out some of the best recipes on the internet and narrowed my test to four top contenders. While they all were cozy and warming, there was one recipe that was even better than I could have imagined — and I can't wait for you to try it.
Meet Our 4 Minestrone Soup Contenders
Giada de Laurentiis' Winter Minestrone Soup adds pancetta to the pot for added flavor and includes lots of Swiss chard. She calls for potatoes instead of pasta and blends some of the cannellini beans to thicken the soup.
Ellie Krieger's Minestrone Soup is fast and streamlined. It features all the usual suspects but is heavier on tomatoes than the others and calls for green beans and kidney beans. Ellie opts for pasta rather than potatoes.
Marcella Hazan's Minestrone alla Romagnola skips pasta and calls for potatoes, as well as lots of cabbage, diced green beans, zucchini, and cannellini beans. The starkest difference, though, is that she simmers her soup for a full three hours, rather than the one hour (or less) the other recipes call for.
Dinner at the Zoo's Olive Garden Minestrone Soup claims to be a copycat recipe of the version at Olive Garden. It includes pasta, two types of beans — kidney and cannellini — and in addition to the usual vegetables, it also features sliced zucchini and baby spinach.
How I Tested the Minestrone Soup Recipes
All of the soups were prepared the same day and tasted side by side. They were served garnished with whatever the recipe called for, such as grated Parmesan cheese or chopped fresh herbs. I also tasted them a few days later, to see how they held up and whether the flavors had further developed. At the end of the taste test, there was one clear winner.
1. The Solid Copycat: Dinner at the Zoo's Olive Garden Minestrone Soup
I grew up enjoying minestrone soup at Olive Garden, so I was curious if this copycat recipe would spark nostalgia. But while it was full of all the same ingredients and flavors, it was difficult to eat due to large pieces of zucchini floating through the soup. It also lacked depth of flavor because it simmered for such a short time so the ingredients didn't have time to meld. However, it's still a great choice if you crave a homemade version of what you'll find at Olive Garden. Be sure to serve with breadsticks!
2. The Fastest and Easiest: Ellie Krieger's Minestrone Soup
At first glance, Ellie Krieger's minestrone soup recipe read the most classic to me. It's incredibly simple to pull together and it can be on your table, start to finish, in under 45 minutes. Unfortunately, this quick simmer meant it was missing the deep, rich flavor I crave from a great soup. It was also a bit too heavy on the tomatoes for my personal taste. I'd still recommend it if what you need is a quick, weeknight-friendly option.
3. The Most Unique: Giada de Laurentiis' Winter Minestrone
Giada de Laurentiis' iteration of minestrone soup stands out from the others with its inclusion of pancetta. I wasn't sure what a little bit of meat would add, but I found it gave the soup a nice saltiness, which I really enjoyed. That, along with the simmered Parmesan rind, added an umami-rich, slow-simmered flavor to a quick-cooking recipe. Giada also calls for blending some of the cannellini beans to thicken the soup. It's a smart trick that worked well.
The reason this soup didn't take top prize was because it didn't hold up quite as well as I expected over the course of a couple of days, and the winner blew me away from the first spoonful.
4. The Clear Winner: Marcella Hazan's Minestrone alla Romagnola
Is it weird to say a minestrone soup recipe is life-changing? Well, this wonderful recipe from Marcella Hazan is. It brought me straight back to the day I arrived in Italy for my graduate program, when my father and I stopped into a tiny trattoria in the picturesque village of Pollenzo for lunch. The restaurant smelled like what you imagine the kitchen of an Italian nonna would — so aromatic and savory — and one spoonful of Marcella's soup brought me straight back. The broth is deeply savory and nuanced, and each spoonful tastes like a happy marriage of wholesome vegetables.

Marcella's minestrone simmers for a whopping three hours. While it's a commitment, it's a mostly hands-off one; you'll be rewarded with a humble, yet profoundly flavored, soup that's true to the country it hails from.