We Tested 8 Popular Kids' Bubble Baths, and 2 Out-Bubbled the Rest
We
independently
select these products—if you buy from one of our links, we may earn a commission. All prices were accurate at the time of publishing.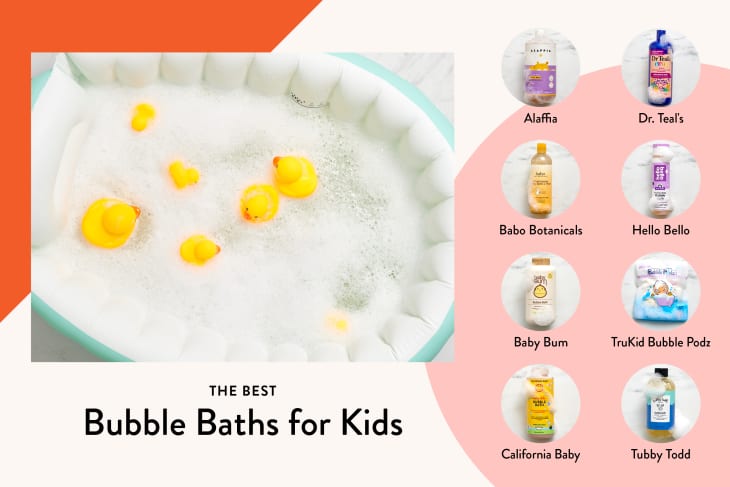 Nothing says family fun like a sudsy bubble bath foaming to the brim of the tub (or sink, for the little ones). With dozens of bubble bath products on the market, it can be hard to find the one that's right for you and your family just from looking at the bottle in the supermarket — like one with a pleasant scent that isn't too strong, bubbles that last, and a formula that actually leaves your children feeling clean. We tested eight of the most popular bubble bath solutions on the market for bubbliness, bubble "lifespan," scent, and effectiveness/feel, so you don't have to. Here's how it went — and which two came out on top.
How We Tested Each Bubble Bath 
In a large clear plastic bin (this one, to be specific, so I could see the bubbles from all angles), I followed the directions on the packaging for each of the bubble bath solutions, using the maximum recommendation of solution for each. For each product, I added a bit of hot water, then added the recommended amount of the solution into the stream coming from the faucet until the bin was about halfway full. I swirled the soapy water to create foamier bubbles with a metal strainer spoon, then let each solution sit and set a timer. After the bubbles sat for 5 minutes, I took note of how they looked, then waited another 5 minutes and judged the size of the bubbles then. I rinsed the bin clean after each product test.
For each brand, we chose the most popular scents to test. I smelled the products both in the bottle and in the bubble bath, where it was far less concentrated, and based the score on the latter. I considered if the scent lingered, filled the room, stayed on the skin, and if it's kid-friendly. Of course, scent is entirely subjective, so make sure to read the full description of each product to get the full picture. 
For effectiveness, I washed my hands with the diluted bubble solution, rinsing it off and then letting it air dry. I judged each product based on the smell and feel of my hands afterwards (although it may feel a bit different on a baby or child). Other factors for what made the winning products the "best" on the market include price, size, range of scents, and ingredients. Below, we share our rankings of each product, from our least favorite to our winners. (Prices for each product vary at different retailers, so for the most part, we're including links to the original manufacturer's site.)
Which Is the Best Kids' Bubble Bath Solution?
Tubby Todd (Lavender & Rosemary), $17 for 8.5 ounces
Bubbliness: 2/5
Scent: 3/5
Feel: 3.5/5
Overall: 2.5/5
At $17 for just 8.5 ounces (that's $2 per ounce!), we had high expectations for Tubby Todd, which boasts natural avocado, mango, and cucumber extracts. While the scent was refreshing, it didn't seem super kid-friendly, and weighed a bit heavier on the herbal side of lavender and rosemary. But where it really fell flat — badum-tsss — was when it came to the bubbles. With super fine, tiny bubbles, they weren't necessarily big enough to play with, and didn't give the fun, foamy effect you'd expect in a bubble bath. The few bigger bubbles only lasted a minute or two, while the tiny bubbles lasted through the 5-minute mark, and didn't deflate too much by 10 minutes. It wasn't sticky or filmy after it sat on the skin, and it left a light scent that lingered for a while afterwards. It's also available in Lemon Créme, Fresh Raspberry, Sweet Quince & Honeysuckle, and Fragrance-Free. 
TruKid Bubble Podz (Lavender), $15.99 for 24 pods
Bubbliness: 3/5
Scent: 3/5 
Feel: 4/5
Overall: 3/5
Made with just sugar cane, cornstarch, lavender scent, coconut and palm oils, TruKid's 24 pods are pre-measured for 24 baths (or 12 more bubbly baths), which make for less mess compared to traditional bottles, while using less plastic in its packaging — which we love! What we didn't love, however, was that the super big bubbles that came out strong at first were about half deflated at 5 minutes, then essentially gone at the 10-minute mark, which may be due to its all-natural ingredients (a plus for many parents). To me, it smelled a little harsh, like a strong lavender essential oil, but wasn't as strong in the actual bath. The "podz" were really easy to use and are pH-balanced, hypoallergenic, chemical-free, and were created by a mom of six to be good for sensitive skin. TruKid Bubble Podz also come in Cherry, Vanilla, Bubblegum, Eucalyptus, Watermelon, Yumberry, and Unscented.
Babo Botanicals (Oat & Calendula), $17.50 for 15 ounces
Bubbliness: 3.5/5
Scent: 3.5/5
Feel: 3.5/5
Overall: 3.5/5
If you're a chamomile family, this one's for you! Babo Botanicals 2-in-1 Bath and Body Wash has a light, calming scent (that reminded me a little bit of baby powder), which other editors said was their absolute favorite. The instructions on the bottle warn that the bubbles might not be as big because it has all-natural ingredients, but I found that it foamed well with big, lush bubbles that had only deflated a little at five minutes, and were mostly gone at 10 minutes. After my hands dried, it left a super light chalky feeling, but it wasn't unpleasant. This pick would be great for those with sensitive or dry skin, and also for adults. Babo Botanicals also comes in Calming Lavender, Eucalyptus, and Fragrance-Free. 
Dr. Teal's Kids 3-in-1 Bubble Bath, Body Wash & Shampoo (Elderberry), $8.99 for 20 ounces
Bubbliness: 3/5
Scent: 3.5/5
Effectiveness/Feel: 4/5
Overall: 3.5/5
Trusted favorite Dr. Teal's 3-in-1 Bubble Bath had one of my favorite scents — it smelled like childhood to this zillennial (a.k.a. super sweet and fruity candy-like, similar to the fish-shaped L'Oreal shampoos I used growing up), which I think kids would love. This was the only product that didn't give a recommended amount for use, so I gave two big squeezes under running water and it foamed up immediately. After five minutes, there were about half as many bubbles, which remained until the 10-minute mark, so a thin layer of bubbles would likely stick around for a while. What's great about this option is that it's a dermatologist-tested, hypoallergenic bubble bath, body wash, and shampoo in one, chock-full of natural ingredients like Vitamin C and essential oils. Dr. Teal's also has a sleepy-time version with melatonin.
Alaffia (Lemon Lavender), $14.99 for 32 ounces
Bubbliness: 4.5/5
Scent: 3.5/5
Effectiveness/Feel: 3.5/5
Overall: 4/5
This 32-ounce bottle packs the most bang for your buck by far at just $14.99. With a semi-heavy lavender scent and not so much lemon, it was a bit too herbal for my taste, but is great for the lavender lovers. With super rich bubbles both fine and big with a sturdy thickness, nearly half an inch of bubbles remained through the five-minute mark, even after a few swishes, and stuck to my hand, which was good for bathtime play. The super-bubbly solution acted like soap, leaving my hands feeling fresh with a light herbal scent afterwards. Made with unrefined shea butter, no artificial fragrance or coloring, and all fair-trade ingredients, it's a choice you can feel good about — and we also love the range of scents: Coconut Chamomile, Coconut Strawberry, and Unscented. 
California Baby Calendula Bubble Bath, $14.99 for 13 ounces
Bubbliness: 5/5
Scent: 3.5/5
Feel: 4/5
Overall: 4/5
One of the bubbliest products we tested, California Baby's Calendula Bubble Bath instantly created huge, fragrant bubbles that remained light and airy through the 10-minute mark. The lavender scent is a little intense, but is really nice in the bath if you're a lavender fan; I felt it smelled more like the herb itself than the sweeter version you might find in room sprays or candles. The soap left a pleasantly light lavender scent on my skin after washing it off. The 100% plant-based formula took six years of research and development before it came to market with calendula extract, aloe vera, and lavender essential oils to soothe the most sensitive skin. It also comes in: French Lavender, Eucalyptus, Vanilla & Sweet Orange, Sweet Tangerine, Ylang-Ylang, Geranium, Grapefruit & Orange, and Fragrance-Free. Plus, each bottle comes with a bubble wand inside!
Hello Bello (Soft Lavender), $7.99 for 10 ounces
Bubbliness: 4.5/5 
Scent: 4/5
Feel: 4/5
Overall: 4/5
Our first winner, Hello Bello, provided big, luscious bubbles that were biggest for the first few minutes but lasted through the five-minute mark, and had very minor shrinkage at 10 minutes. Of course, aside from the show-stopping bubbles, it's also formulated with aloe vera, calendula, cucumber, and avocado extracts, with sunflower and jojoba seed extract — all of which make for a tear-free, moisturizing bath for all skin types. I found the gentle floral lavender scent was bright and strong when added to the bath, but then was less overwhelming post-bath on the skin, although it left a super light film. This budget-friendly solution also comes in Berry Lemonade and Fragrance-Free.
Baby Bum Bubble Bath (Green Coconut), $9.99 for 10 ounces
Bubbliness: 4.5/5
Scent: 4.5/5
Feel: 5/5
Overall: 4.5/5
As one editor put it, this pick "smells like vacation." A great scent for kids and parents alike, the light coconut-lime scent infused with coconut oil, avocado oil, banana, white ginger, and aloe instantly creates a soothing, tropical vibe with gentle cleansing properties to match. But that's not all! The bubbles out of this bottle were super foamy right off the bat, standing tall from the jump — and after five minutes, they had only deflated a little bit, which looked about the same at the 10-minute mark. After washing my hands with Baby Bum, the scent was really light on my skin in the best way. And that's why it's one of our winners! Unlike the other products, this is the only scent this bubble bath comes in. (And we think that's okay.)
Cubby: Eat. Live. Play. Families Together at Home.
Want more great home ideas for families? Sign up for Cubby's weekly newsletter featuring our best editor-approved product recommendations, meal ideas, and all the kid's room decor ideas you need.