A Week of Yummy Air Fryer Dinners
We
independently
select these products—if you buy from one of our links, we may earn a commission. All prices were accurate at the time of publishing.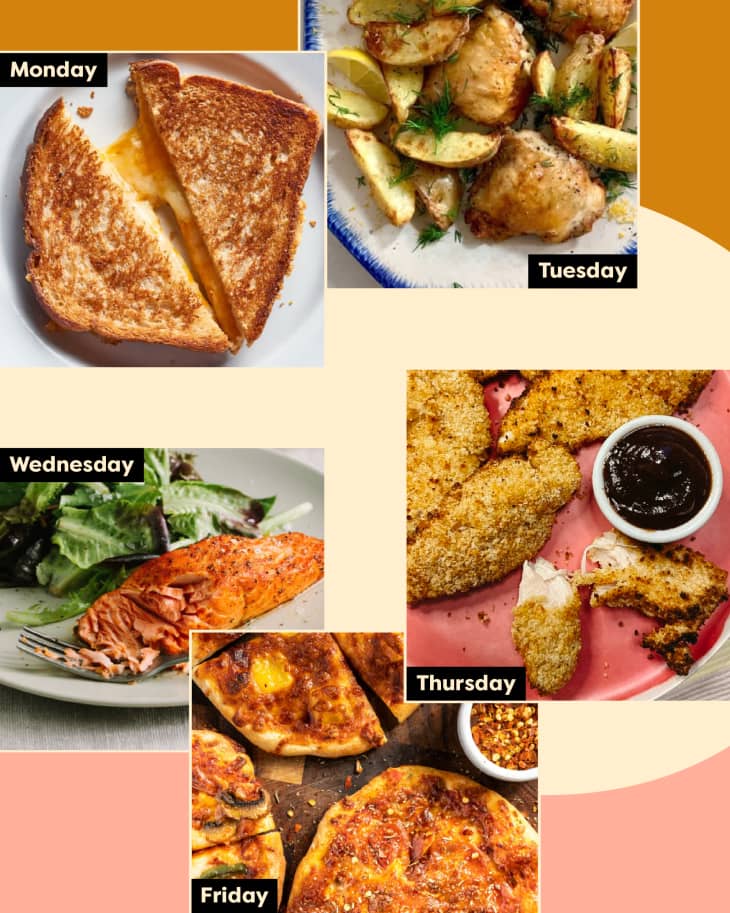 When I first got an air fryer almost two years ago, I have to admit I thought it was a little bit of a fad and was slow to adopt it into my cooking routine. These days, it's a totally different story. The air fryer is my go-to appliance anytime I want an extra-crispy batch of tater tots or a quick roasted side dish (hello, air fryer asparagus and air fryer green beans), and anytime there's not enough space in the oven or I simply don't want to turn the oven on. Oh, and if you happen to be going through a kitchen renovation or don't have access to an oven for some reason, it's a lifesaver.
Air fryers are basically countertop convection ovens, so they heat up faster than your full-sized oven and make faster work of dinner. This week I'm leaning on my air fryer every night for meals everyone at the table (including a toddler!) will love. Here's what's in my meal plan lineup.
Monday: Air Fryer Grilled Cheese
Mondays in my house are all about ease and comfort. And since it's particularly cold and blustery here in the Northeast, tomato soup and grilled cheese feel just right. I'm mostly in it for the crispy-on-the-outside and perfectly-gooey-on-the-inside grilled cheese. Plus, it'll help me use up some store-bought soup that's been sitting in the pantry.

Get the recipe: Air Fryer Grilled Cheese
Tuesday: Air Fryer Greek Chicken and Potatoes
I bookmarked this recipe months ago, and am excited to finally have it in my meal plan rotation. If I have some extra time on Monday night and remember to plan ahead I'll add the chicken to the marinade then; otherwise I'll toss it together first thing on Tuesday morning (it should take less than five minutes to prep the marinade, and just about 10 minutes more on Tuesday evening to get everything ready to go in the air fryer).

Get the recipe: Air Fryer Greek Chicken and Potatoes
Wednesday: Air Fryer Salmon
The air fryer has become my favorite way to cook salmon on busy weeknights. This method is foolproof (not to mention it's ready in less than 10 minutes!). I plan to double the recipe so there's enough for my family of three, plus some leftovers I can add to my lunch salad the next day. I'll round out dinner with a simple salad and air fryer asparagus (which I'll cook before the salmon).

Get the recipe: Air Fryer Salmon
Thursday: Air Fryer Chicken Tenders
My whole family adores these chicken tenders! The coating is flavorful, super crunchy, and doesn't fall off the chicken when you bite into it. I plan to round out dinner with air fryer broccoli.

Get the recipe: Air Fryer Chicken Tenders
Friday night is always pizza night at my house — this week, in lieu of takeout, we're taking it to the air fryer. Best of all, these personal pies mean that everyone gets their favorite toppings tonight.

Get the recipe: Air Fryer Pizza
New to meal planning? Start here.
Click below to get more tips, insights, and ideas from our Meal Plan Club crew and readers like you.
Meal planning isn't always easy — especially if you're just getting started. But we're firm believers that it's the secret to stress-free weeknight dinners. We want to help you find inspiration and ease some of the pain points that come with getting dinner on the table night after night, whether you're cooking one or a family of four or five. Every week we share a new meal plan solution specifically customized for you from reader requests or from a guest contributor, for Next Week's Meal Plan!