3 Frozen Mac and Cheeses That Are (Almost) Better than Homemade
We
independently
select these products—if you buy from one of our links, we may earn a commission. All prices were accurate at the time of publishing.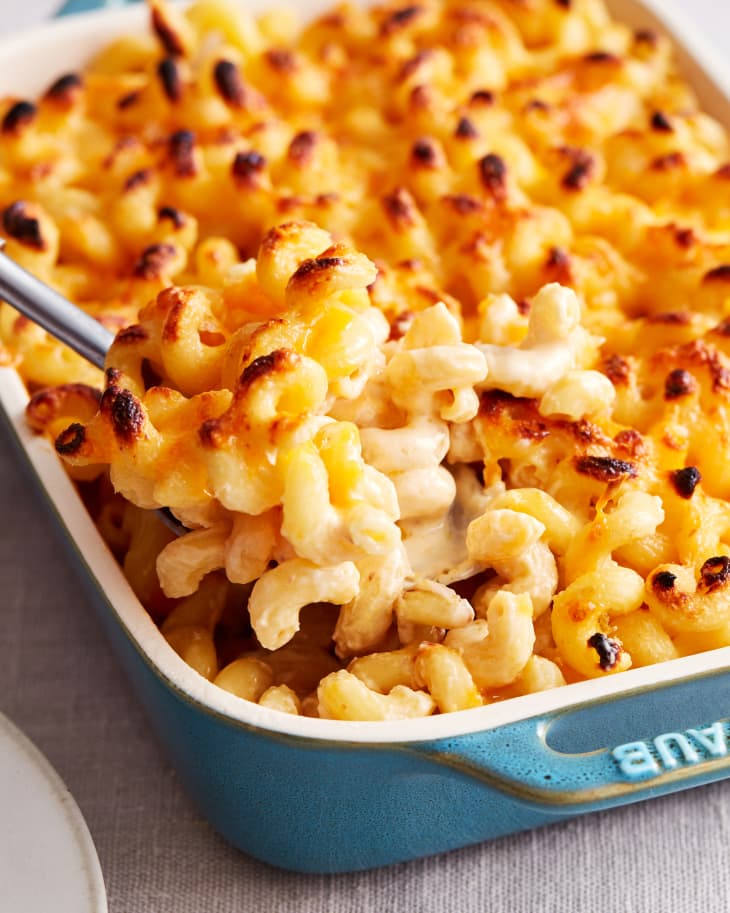 Few things bring comfort to me like a bowl of macaroni and cheese. With tender curls of pasta suspended in a velvety-rich cheese sauce, this childhood favorite of mine remains a go-to meal at any age. If you have the time, the from-scratch stuff requires only a handful of ingredients and minimal thought — but when you don't, follow my lead and head to the freezer aisle. 
If you haven't noticed, there are a lot of options lining the shelves. Which ones are worth their weight in melty cheese? There was only one way to find out. I bought 10 frozen mac and cheese brands, heated them up, and held an official taste test. These are the three that tasted the closest to homemade.
1. Stouffer's Macaroni and Cheese
Stouffer's frozen entrées are a staple of the freezer section, and I'd bet that the mac and cheese alone makes up most of the brand's business. It's the textbook mac experience, with a salty, bright-orange cheddar sauce coating elbow pasta so soft it almost melts right into the cheese. There's enough sauce for the noodles to float around in; it's not dry (or soupy) in the slightest. It still has that signature squelch when I peel the plastic back and give it a stir out of the microwave, just like when I ate it when I was a kid. Heat up a tray and, in less than 10 minutes (I like to go for an extra few minutes until the edges get brown and crusty), you'll see why it's remained a consistent classic for all these years.
2. Trader Joe's Diner Mac and Cheese
In the sea of finds that is Trader Joe's frozen section I counted no less than seven different frozen mac and cheeses, including Hatch Green Chile, French Onion, and even Pepperoni Pizza. To keep the playing field even, I only tasted the Four Cheese, which gave similar notes to the standard-style of mac, but with more depth of flavor from the mix of sharp cheddar, buttery havarti, nutty Gouda, and funky Swiss in the sauce.
It looks like your average mac out of the microwave, but the four-cheese combination demanded my attention on the first bite. It's less liquidy than other brands I tried — almost recalling a classic oven-baked variety. Zhuzh it up with some toasted bread or cracker crumbs to really hit the homemade feel.
3. Beecher's Handmade Cheese Frozen "World's Best" Mac & Cheese
Take the penne as a sign this is no ordinary mac and cheese. Beecher's is a Seattle-based cheese shop known for its 15-month aged Flagship Cheese. The sweet and pungent cross between cheddar and Swiss is the base for the renowned mac and cheese sold out of its shop in Pike Place Market, and in the freezer cases at local grocery stores nationwide. Chipotle purée and chili powder also add a lingering warmth that helps offset all that creaminess. 
The "World's Best" moniker is well-deserved. When we finished our tray, I exclaimed to my partner how I never want my freezer to be without a box of Beecher's.